The debut of an episodic, semi extemporaneous anarchist cooking program:
Every Cookie Is A Tiny Fist Raised Against the Dismal Edifice of Babylon
144 Cookies
secret knowledge
Bhakti Anarcho-Pragmatism
Love & Rage
a clean kitchen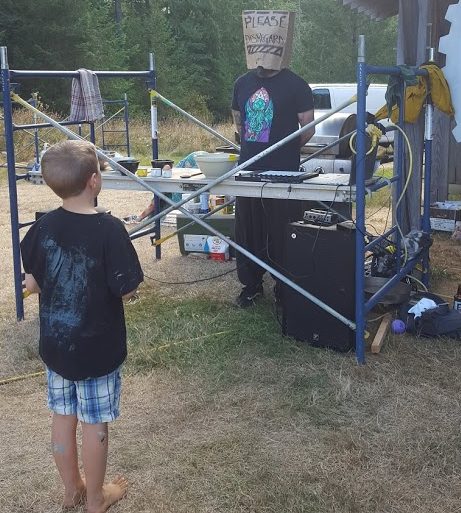 The performance ran 5 times over the course of the afternoon to crowds of various sizes. Everyone enjoyed the cookies – maybe the anarchism will catch on as well.
the Cinnamon Clinamen Liberty Biscuit (a cookie for all occasions)
100g coconut oil
180 g brown sugar
200 g whole wheat flour
1 egg
1/2 tsp baking soda
1/2 tsp baking powder
pinch salt
1 tbsp cinnamon
1/2 tsp chai spice
The baking itself was done on a barbecue. A few bricks under the cookie tray keeps the cookies in a flow of hot air and undermines the brute banality of the systems which would deprive us of a nuanced incarnation.
cream together warm oil and brown sugar
add egg
mix dry ingredients
gradually add dry to wet
form cookies
cook for 7 to 10 minutes, depending on barbecue
while the cookies bake, chant the mantra of king shark
My Name Is Trixie. I Like To Party.